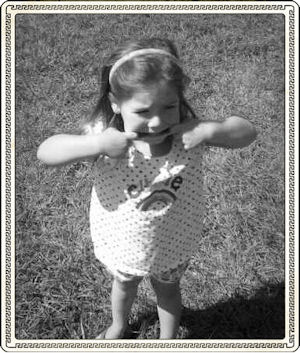 Daddy told her to smile for the camera for a b-day pic and she just had to make a funny face for him! : )Wow, what a week! I spent the most of last week running errands preparing for Papa Bear's birthday Friday and our Little Red's third birthday on Sunday. During the course of it all, I did some serious curriculum overhaul and spent days trying to figure out how I was going to plan (or not plan) and get started with the new stuff. Not easy to do, but it has definitely let me sigh a bit of relief, well for now anyways.
The problem, during this hectic week I totally dropped the ball on my poor little blog here missing several planned post, including a review of The Founder's Academy Electives on Demand. So, to help keep me accountable, here are my personal plans for the day, to keep accountable, so I get caught back up and no longer feel like a frazzled freak.
Top Priority
Write "The Founders Academy: Electives on Demand" review. Really, this is easy, because I cannot wait to share it with you.
Write my "Always IceCream" review for the TOS Crew due to post tomorrow.
Once these are done, we'll get some schoolwork done and then is on to…
Medium Priority
Tackle that mountain of laundry that never seems to go away!
Make my way through the 400+ emails for the Home School Tweet that I have avoided for the last week.
Make my way through my 400+ personal emails, also avoided for the last week.
Finish working through my new lesson plans and getting my personal binder together.
Sign back up for Fly Lady, because I obviously need some sort of motivation to get my butt back in gear!
Low Priority
Write my "Cooking with History" post.
Review my calendar, checking twitter party dates, blog hops etc….
Check out the deals currently going on at some of my favorite stores to see if I can start to check off items on our Christmas list.
(clearly I am working out of order today and you can see if you follow along that I am just NOT motivated to get this all done!)
If I can manage all of this today without losing my mind and still taking care of the normal day to day, I'm going to reward myself with a nice glass of wine with dinner. If not, well, there is always tomorrow, but I'm sure going to try!
How do you get back on track when life has gotten a little hectic and interrupted your plans?