The Christmas Tree at EpcotIt was a busy weekend for our family as we headed out to take in the Holiday decorations at Disney World and the Muscle and Classic Car Cruise In's at Old Town. All in honor of our oldest 9th birthday, which happens to be today. Happy Birthday to my Builder Boy! While we had a blast, I had a few realizations over our 44 hours spent away from home.
I'm One of "Those Moms!"
What is one of "Those Moms" you ask? Well, it would be one that dresses inappropriately for her age. The problem with this realization is that I really don't have much of a choice. You see, somewhere in this blog there is a post on my battle with being too skinny, so I won't go into too much detail again, but the gist is that I have struggled for years to maintain a weight over 100lbs even though I eat a LOT and have had a gazillion test run to determine that there is nothing medically wrong. I'm just fated to be super skinny and really, I don't enjoy it.
Why, because I am stuff buying clothes from Junior section so that they actually fit which leads to me staring in the mirror at myself wearing a shirt and shorts before we left Friday to realize just how short my shorts were and to see now that I am finally sitting steady at 106lbs peeking out from behind those short shorts are cottage cheese thighs. So, either I only wear jeans out of the house from now on or I figure out some miraculous way to get my butt in shape and have toned legs again without dropping back down below 100lbs making me look like even more of a twig than I already do.
Blah! Until, I figure it out I guess I'm going to continue to be one of "Those Moms" that I stared at like a weirdo when I was a teenage girl because, let's face it, this is Florida and I was just wearing shorts a week before Christmas, it is not logical to even consider wearing pants full time.
I Can't Manage a Trip to Disney without People Pissing Me Off
Before the LightsI have to start with being in the Magic Kingdom on Saturday night. Our main mission, to see the castle lights turned on for the Holidays was achieved but not without me losing my cool before it was over. You see, we managed to get fairly good spots to watch the short show and see the lights turned on. Papa Bear put Little Red on his shoulders and Goldilocks and Builder Boy stood on our Sit-N-Stand stroller for a better view. Then it happened, the super rude person that always pops up when you think your enjoying yourself. He came from the family standing next to us and had his daughter who must have been at least 5 perched on his shoulders, making the pair of them tower over everyone above 6 feet. No big deal, until he kept slowly creeping in front of our stroller and the big kids. I kept checking to make sure they could still see, though my view had all but been obliterated. Then halfway through the show he made his move directly in front of them, completely blocking their view as he waved for another large male to join him.
It was then that I lost my cool, quickly shooting the other man death ray eyes and letting the one blocking our view have it with a view choice words, though none foul. He looked stunned at my mini meltdown rant, but quickly moved out of the way.
Toy Story = Complete Lunacy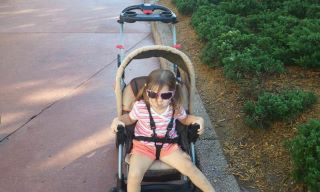 Little Red Hanging Out While the Big Kids were on Test Track at EpcotIt wasn't until yesterday morning that I became completely baffled though when I realized that though we are annual pass holders I don't think we will ever have the pleasure of experiencing the Toy Story attraction at Hollywood studios first hand.
You see, we got to the park, which opened at 9am at 8:30am with sole intention of finally getting to experience Toy Story. We made our way through the turnstiles and got a place by the big blue hat, waiting behind the ropes, along with what seemed like a gazillion other people to get to the ride. That is when I first realized that we were not the only ones with this brilliant plan. We made it to the ride at 9:05am at which point the line was already a good 200 feet down the walkway past the attraction. ???? What the #$%*! To make matters worse, as we walked back the other direction the Fast Pass line had managed to already curve around the Little Mermaid attraction. ???? Again What the #$%&!
It was clear that we were not going to experience Toy Story and it was at that moment that I decide NO ride was worth subjecting ourselves to that sort of insanity. Instead, we headed over to Star Tours for some NO WAIT fun, watched the Muppet 3D show and then walked back over for the Beauty & the Beast Live on Stage Show before heading home from our weekend trip.
With all of that being said, I've decided that since I DESPISE New Year's Resolutions, I'm going to write up some 2012 Bucket List, with one devoted entirely to Disney World, because there are so many things that we still haven't gotten to experience.