I'm really slacking on my "The Not Back to School Blog Hop" post, but for good reason. We haven't "officially" started our school year yet. Not because we do not have our materials, or because we are having excessively much summer fun, but because this mama is STILL on the fence, deciding which umbrella school to register with this year.
Yeah, I know it shouldn't be THAT difficult, but alas, I'm trying to plan for the future, not just this year, so I'm dragging my feet in the mud (well in our case, the sugar sand) and not getting it done. So, I'm going to give you two "A Day in the Life of" post, the first one today, where I will stop in all day until I go to bed chronicling the insanity that happens in a home school house that hasn't actually started school and then a second next week that shares what our days will be like.
Are you ready……Let the insanity begin!
Morning.....Yeah, an Early Morning
1:00 AM I awake to find that my precious Little Red has peed in my bed. Not cool man, not cool. I deal with that to find that she is now WIDE-awake despite the fact that she had only slept two hours.
3:00 AM Little Red finally goes back to sleep and I actually snooze for a bit.
5:00 AM Papa Bear's alarm going off wakes me up and I realize that my I feel like a flipping pretzel because I am now sharing my bed with all three kids who think they have a king sized bed to themselves.
6:30 AM I give up on trying to sleep in the madness and head out to the recliner where I manage to half way sleep for a bit.
8:00 AM Little Red and Builder Boy come charging out into the living room. Little Red snuggles me on the recliner for a bit while Builder Boy heads straight to the computer to turn on Jump Start, determined to conquer the money counting level he could not previously master.
8:30 AM I manage to sneak in a blog post while Little Red aggravates the crap out of her big brother.
9:00 AM Goldilocks finally makes her way out of the bed (lucky little thing) and I fix the kiddo's breakfast.
9:30 AM The kids are in our "school" area pretending that our library is having a book sale. They have created signs and everything. I'm going to put this part of the post up, link up and head over to read the Disney book Little Red is requesting.
10:00 AM The pretend library is no longer fun for all, as Builder Boy has proclaimed himself the boss and is not very diplomatic about it. So, I'm cranking up the Spotify for music and dance (quit fighting with each other or mommy might scream) time for the kids
while I get going with my CardioTrainer as I continue to fight the effects of gravity and having three kids to remove my bottom from my thighs and put it back where it goes!
10:50 AM The kids decided that reading, coloring and doing push-ups were more interesting options today rather than dance. Oh well, I got my 20 minutes of sweat and make your legs feel like noodles time in for the morning. Off to eat a late breakfast now while the kids pick up some mess in their room.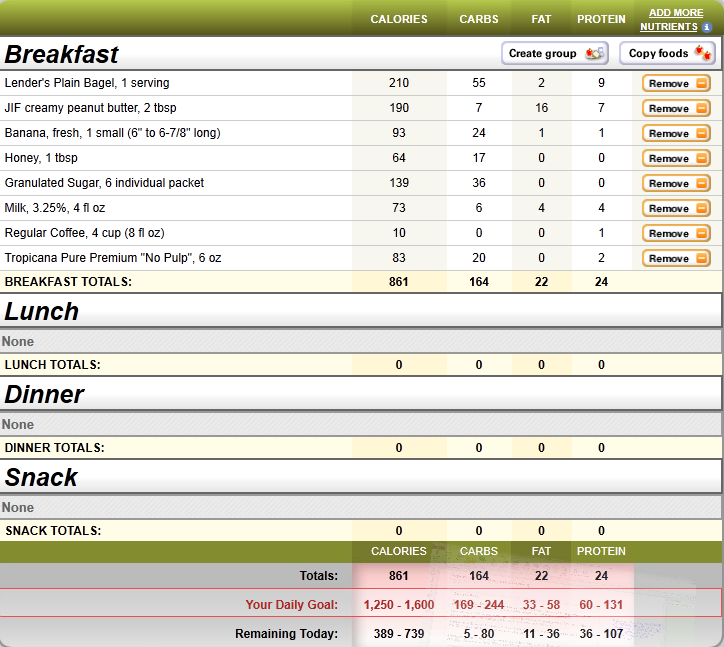 Love Spark People!11:30 AM Well, the cleaning did not happen as a snake appeared on our front porch which totally takes precedence (well, at least as far as the kids are concerned). So they broke out our Field Guide to Florida Snakes to try and identify it, but had no luck. Mom wishes they had becuase now I don't want to go out. Boo!
I stuffed myslef with my late breakfast, see, and have no clue what we are going to do next yet. I'm thinking we will reattempt the whole cleaning thing (mom include...evil flipping laundry) before we do anything else.
(Ha, Ha, I just realized Spark People has gone wonky on me again. My calorie goals are 1917 - 2417 a day, I'm trying to gain weight you silly program, not starve myself)
The Afternoon....About Time it Got Here!
12:00 PM Ummmm....maybe the cleaning will get done today...I started surveys instead (have to add to our Disney fund you know!) and the big kids are eating lunch while listening to nursery rhymes & songs on Jump Start with Little Red. How can resist a time where they are all sitting together enjoying something instead of screaming "MOM....so and so did so and so.....?" Yeah, I'm a sucker, but there is still plenty of day left.
12:40 PM Builder Boy: "Banana People....Banana People...They have breached our gates!"
Goldilocks: "Huh, what?"
Builder Boy: "The Banana People they are here!"
Goldilocks: "Oh, well.....Simon Says....."
Uh-Huh! That's how we roll here in the crazy Tweet land in the afternoon.
1:20 PM Well, I was eating lunch and the kids were actually cleaning and what happens.... The @FedEx guy just dropped of our awesome prize pack from Staples that we won during the twitter party. I don't know who was more excited, me or the kids! Love me a glittery binder you know ; )
Evil mean mom is getting ready to make them do some "work" though so they will have to part with the new goodies. It is time for Builder Boy to practice with Big IQ kids as I get ready to do my review for the TOS Crew. Goldilocks gets some Bloomers Island time and me and Little Red are going to snuggle up for BFIAR time with "We are Going on a Bear Hunt" before her nap.
2:40 PM Got Little Red down for her nap, the big kids finished up their computer time. Builder Boy is back in the "school" area going over maps tracking every place that he knows Dog the Bounty Hunter (he LOVES Dog) has been. Goldilocks is sitting in a corner drawing and me. Well, I'm sitting here wondering what in the crap my husband did to himself at work today.
Text from Him:
2:16pm At clinic, crushed my hand
2:16pm I'll call u as soon as I can
2:17pm I broke it (well duh I kind of figured that)
Phone Call from Him:
2:30pm - I'm probably going to be late. (Me) Well what did you do to it? (Him) Gotta go, their coming to clean it ?????
Seriously, clean it? How bad did he crush it? What the crap was he doing? How long am I going to be cutting dinner for four big babies now instead of three? This is so not going to work with three hyped up kids who LOVE to jump on their daddy when he gets home! Is it his working hand? (he's a mechanic) Will he have to miss work? I hope they give him a good pain killer because he is such a big baby for a strong man when he's hurt!
Ahhh....how will the rest of the day play out, I wonder?
3:30 PM Hubby calls and says he is going to have surgery tonight or tomorrow on his hand (Really! It's that BAD!) Flipping A...lmonds! He has no clue where at, just that they were getting ready to transfer him to a hospital.
Little Red is still napping and I have gone into bad mommy zone and allowed the kids to tune into Good Luck Charlie with there first TV time for the day. Can we just stick a fork in me and be done for the day? Oh, no, the hours are still there and alas I must start dinner in about 20 minutes and sit down and rework our budget for Workman's comp pay for the next 2 months at least.
Sadly, I see our Sep/Oct Disney trip slipping down the drain now. No more homeschool days for us.
The Evening is Finally Upon Us
6:45 PM I'm a little less "light socket hair moment" now! Cooked dinner and ate with the kids while we discussed how GENTLE they are going to have be with their daddy.
He is on his way home after getting a splint and some meds. I'll be driving the hour and half drive tomorrow for him to see the surgeon and then again on Friday for the surgery. Thankfully grandma will have the kiddo's during all of this.
As far as working....wait for it....wait for it....my workaholic hubby has already been on the phone with his boss talking about going back next week for light duty work. Is he insane, possibly!
I'm heading over to read some of How to Train Your Dragon with the kids now while we wait for daddy to be home.
It's Now 7:30 Thursday Morning, Time to Fill in the Rest of the Night
7:30 PM Poor Papa Bear got home from work and we fawned over him for a while. Found out that he was REALLY close to severing his pinky finger off. The kids were incredibly hyped up from it all, but we managed to sit and watch Planet Earth as a family before they acted as though we fed them pure sugar through an IV and pretended they were lemurs for an hour. Somewhere in the midst of all this they had some ice cream for desert too.
9:30 PM We snuggled in the bed together as a family and watched Ancient Aliens (Love this show!) and then tucked the kids into bed. (They were all finally out for the count at about 11:00 PM or so) Poor Papa Bear sat up and watched some Netflix while sitting in pain and I finally went to bed after a long caffeine fueled day.
And here we go again, up and at em at 7:00 AM again ...... I've finally gotten around to sharing a more typical day in our lives here, come check it out. (Warning....we really are not that typical)