On this day last year we were on our way to Disney World to celebrate my oldest daughters sixth birthday. It was that day that I decided it made more since to pay for annual passes, which would cost us roughly the same as three individual visits. It was this day my new found love of Disney began to blossom.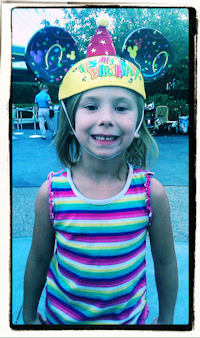 I always loved Disney World as child and being a Central Florida native had made fare share of visits through the years, even multiple school field trips. However, nothing feeds the love for mouse house like 365 days a year access. As fond as my childhood memories are such as my first time approaching Space Ship Earth or when Hollywood Studios was still MGM where the popular rides such as Tower of Terror and Toy Story were non-existent, the memories I have made with my family over the past year are what will cause Disney to forever hold a place in my heart.
In the past year, we experienced our first Flower and Garden Festival as my Mother's Day gift. The kids ran in two Run Disney Kid Races and now want to run their first 5k. We went to our first Food and Wine Festival and managed to stick around long enough to experience Illuminations. We spent a day at the park with good friends in the fall. We resort hopped for our son's birthday and took in the sights of all of the holiday decorations.
These are just a handful of the memories that will stick out in my mind from the last year and just a fraction of the ones I hope to make as we are renewing our passes for at least one more, full year of fun.
I can't say my hubby loves the attractions and the allure of Disney as much as the kids and I do, but that makes for another great memory in itself, knowing that he could do without the crowds and waiting in line but still he smiles and takes us again and again. I do have a feeling though that my tendency to open the Magic Guide on the iPad and random times during the day at home to see the wait times may have him freaked out a bit, but what can I say, I LOVE Disney.
So, many of my friends think I am nuts for allocating a large chunk our families yearly entertainment budget to Disney (for many living here it strips away the appeal.) If you had the opportunity to invest in annual passes for your family to Disney, would you do it or would you save those funds for weekly outings to movies and similar activities?