A 1929 road map of New England. Scanned by Chris Mason, provided by John MacGregor.Believe it or not, I heard this question just two months ago when my kids laid eyes on a road map for the first time two months ago. In a time when we rely so much on technology, it got me wondering, how many kids actually know what a road map is let alone how to read one. That is why I wanted to take the time to point out to you that today is "National Read a Road Map Day."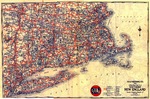 A 1929 road map of New England. Scanned by Chris Mason, provided by John MacGregor.Believe it or not, I heard this question just two months ago when my kids laid eyes on a road map for the first time two months ago. In a time when we rely so much on technology, it got me wondering, how many kids actually know what a road map is let alone how to read one. That is why I wanted to take the time to point out to you that today is "National Read a Road Map Day."
Don't Have a Road Map?
Silly, yes, but when you think about it, it is a valuable skill that many people these days do not posess thanks to GPS and such. So, take the time today to read a road map with your kids and if you don't have one, at least print out one of these to use.
More than Just Reading a Map
If you want to take the opportunity to turn National Read a Road Map Day into a full lesson, you can check out some of these sites below.
Publisher: Geo. H. Walker & Co. Date: c1897 Location: Boston (Mass.)Plan and take a road trip through your state – Microsoft in Education ROCKS, I must say that first. Head to this lesson plan to for a full geography lessons that explores your states features while having your child create a travel plan, construct a map in Bing and more.
Planning a Road Trip – National Geographic Xpeditions is one of my FAVORITE resources for home school. This lesson plan is designed for grades 3 – 5 and focuses the attention on longitude and latitude while mapping out plans for a trip.
Google Maps – A cliché as the term is, the sky is the limit when you open up Google Maps. You don't need a particular lesson plan handy, just start exploring with your child, trust me, its educational and fun!
Soup's On! Caring For Others in Our Community – This is a full unit that focuses on philanthropy and you will find an excellent lesson on mapping part way in that allows your child to weave their own happenings into the understanding of a road map.
Tell me, do your kids know what a road map is? Will you take even five minutes out of your day today to read a road map?