This week for Destination Disney, Heidi (of Heidi's Head,) asked what our 8 favorite "lands" of Disney World are. This was a difficult one for me because my favorites are a little different from the family as a whole. So I decided to list our 8 favorite lands by the order that we frequent them when we visit. I've learned that as passholders you can easily ignore certain parts of the parks and just gravitate to your favorites every time you go. So here is where you are likely to find the Parmer family at Disney World in order from first to last.
1 - Tommorrowland – Magic Kingdom
The Hubs & Ema Relaxing for a Minute Waiting on Space MountainWe do not make a visit to Disney World without spending a considerable amount in Tomorrowland. In fact, we usually rush right over as soon as we enter the park to snag up a fast pass for Space Mountain before blasting away on Buzz Lightyear of relaxing on the People Mover.
2 - Adventureland – Magic Kingdom
If we are not darting to the right, we are off to the left to Adventureland as we LOVE every attraction here. Beside the awesome pirates, we are that weird family that will climb the Swiss Family Tree House over and over again because we love it.
3 - Sunset Boulevard – Hollywood Studios
While it may not top my list of lands, it does for the kids and hubs. They could ride the Tower of Terror all day if allowed to. I still enjoy this area though because the little one and I usually hang out, have some ice cream, and play at one of the kid stations while they enjoy the rides. It doesn't hurt that the Beauty and the Beast stage show is here either.
4 - Future World (West) – Epcot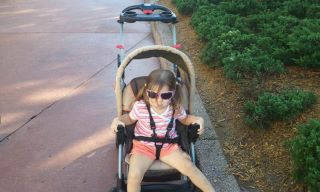 Ali Waiting for the Big Kids on Test TrackThis is where you will find Test Track, Mission Space and Ellen's Energy Adventure as well as the soda place (mind blank, help me out people) where you can sample soda's from around the world. The kids insist we pay this shop a visit every time we go as they actually really like more than one of the sodas. I enjoy the chance to cool off in the air for a minute.
5 - Asia – Animal Kingdom
Everest and Kali River Rapids, must I say more. Not really, but though the kids love the rides here we actually enjoy walking around and seeing all of the animals here too.
6 - The Land – Epcot
Simply put, this is one of favorite lunch spots, so we often end up here to have a quick, tasty and wallet friendly lunch at Sunshine Seasons and then ride Living with the Land when we finish our meal. The kids actually enjoy the Circle of Life show too.
7 – Fantasyland – Magic Kingdom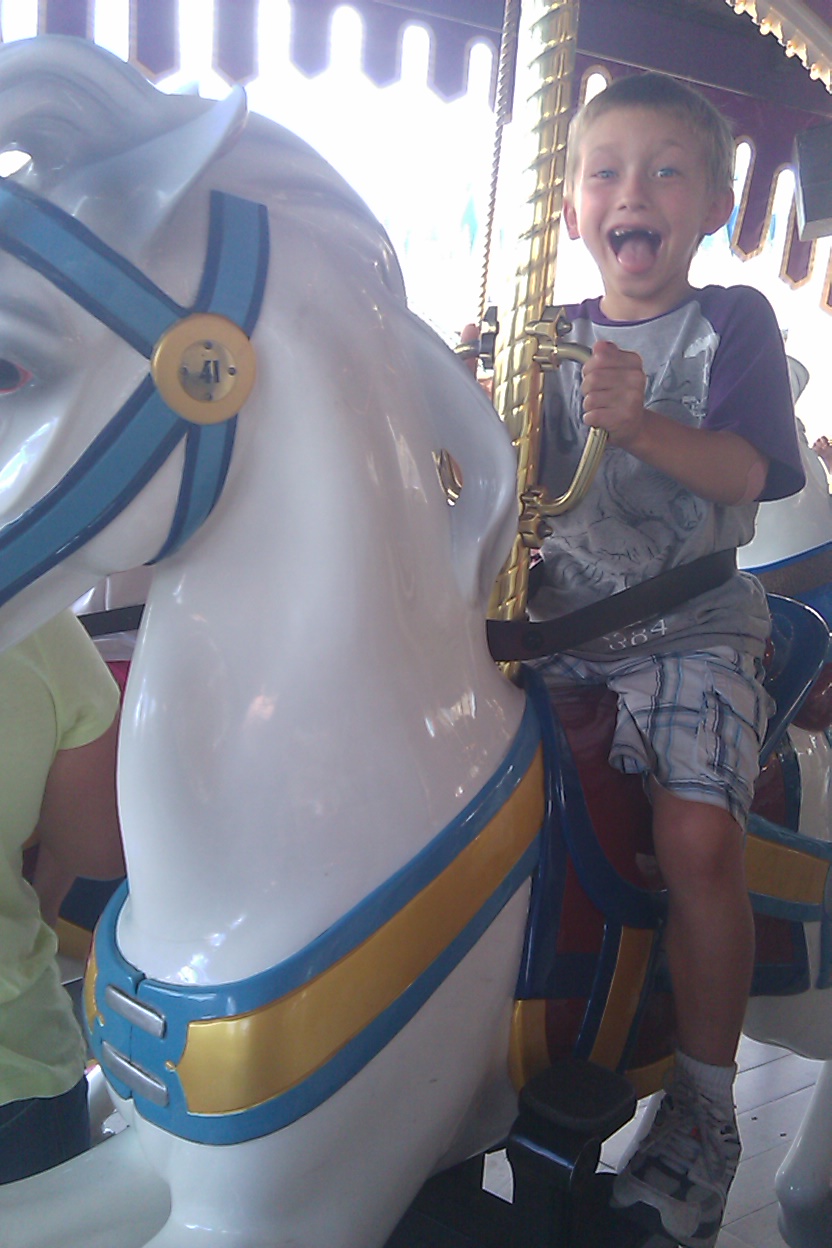 Matt Being SillyIf this list was naming my 3yr olds favorite lands, Fantasyland would have made number one for sure, but as a family, it ranks lower on our list. The big kids like the teacups and carousel (nostalgia you know) but that is about it. I have a feeling it will climb up our list though after our visit in May when they get their first look at the new attractions in the expansion that are now open.
8 – Hollywood Boulevard – Hollywood Studios
Since the "land" of Hollywood Boulevard technically reaches all the way back to Star Tours, it rounds out our list, as we could never visit without a round or two on Star Tours. The kids watched their first Jedi Training show last time too, so I think I may sign them up next trip as they looked really intrigued.
Now head on over to Heidi's Head and share your top 8 lands for Destination Disney!
*If you are a regular reader you have seen these photos before as I share a very LIMITED number of photos of my family on my blog for personal reasons.