I haven't linked up with Destination Disney at Heidi's Head for over a month now because I'm just too frugal to have top list for food and resorts as I generally avoid them. I love the thought of sharing two of my favorite memories though, so here it goes!
My Own Childhood Magic
20,000 Leagues Under the Sea By Brian MarshallI couldn't tell you how old I was on my first trip to the Magic Kingdom, or if my first memory is even from my first trip, but I can tell you the images of the day that I remember are wonderful and I will never forget them. It was a time before park hopping, Animal Kingdom and so much more and I remember one attraction more than any from that day, 20,000 Leagues Under the Sea. I can vividly picture where it used to reside, the way the queue line looked, the slight panic I felt when the "sub" submerged, how I begged to go on again though the wait was horrible and even the smell. I couldn't tell you exactly why, buy that attraction had an impact on me and it was like a little piece of me died when they took it away.
I also remember Mr. Toad's Wild Ride, Snow White and It's a Small World from that day and when you combine them all, it is one my favorite Disney memories because I know I could never replicate it today and that is a shame because it was a truly magical day.
A Little Disney Magic for My Own Kids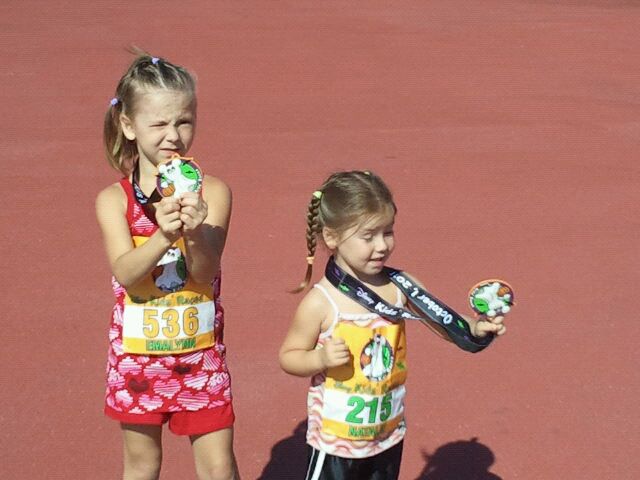 The girls after their first Disney Kid Race.While I'm sure my kids will grow up and have a wonderful memory similar to mine, one of my favorites that we have created in the past year was their first time at the Disney Kid Races last fall. All three kids had a blast racing and were so proud of their accomplishments when they were done. They couldn't wait to head to the parks wearing their race shirts that said "I did it" while adorning their medals. I'm sure they would be just as proud completing a race anywhere else, but Disney truly does make the race environment magical and so much more than a race. So much more that it inspired my oldest, 9, to run his first mile at another Disney race this past spring and we have plans to tackle our first 5k as a family this fall. I'm sure it will make for another amazing memory for us all.
Do you have a favorite Disney memory? Head on over to Heidi's Head and share two of your favorites for the Destination Disney link-up.
h4 class="zemanta-related-title"> Related articles