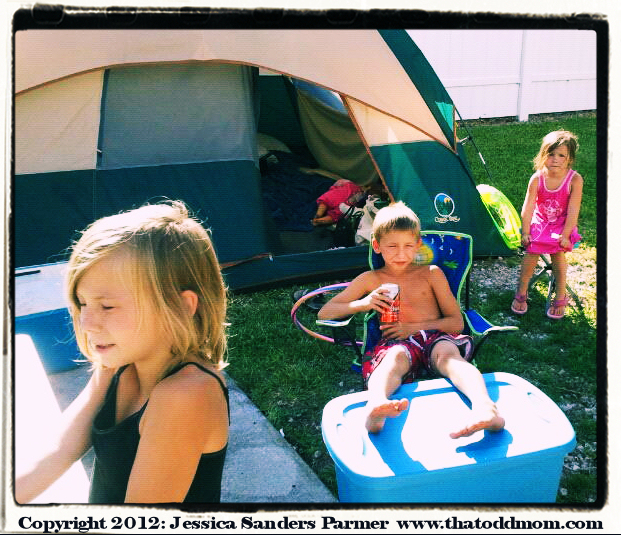 This time last week, I was packing my bags, well actually slamming my van full with camping supplies, for a fun filled family vacation and my first conference as a blogger. We checked into the Kissimmee/Orlando KOA on Thursday afternoon and spent an evening of relaxation before I headed out to SheCon early Friday morning.
In the morning
I arrived at checked in to find the cutest Let's Rock Elmo waiting for our family courtesy of Playskool. Man did my three year olds eyes light up when she arrived later in the day and saw it. I grabbed a cup of coffee took a seat at a table by myself feeling a little left out in what seemed to be a very cliquish environment. A few ladies, including Catrina from Blogger Effect, later joined me.
Jessica Sanders-Parmer on Staree
The morning started out with a wonderful keynote from @DrMommy on "Letting Go of Super Mom." I'm going to devout a whole other post to her keynote because I loved it. Make sure you come back for it. After the keynote, I skipped the next session and trekked across Coronado Springs Resort with Catrina to hunt down some coffee at 10:30 in the morning because they had taken it away from our conference already. I had only had two cups at this point and that just wasn't enough to function.
After grabbing coffee, we checked out the expo hall and chatted with the representatives from Share Our Strength, Time Dog, Crave Local, Bona and Produce for Kids. Then I managed to get in part of the session with Sarah ( @Tech4Moms ) and Trina ( @GamingAngel ) on gadgets and apps to make blogging life easier, before the hubs texted me letting me know that he was there with the kids for what would be a fabulous lunch hosted by Subway that I'll tell you about more in a special post just for Subway.
The Afternoon
After lunch, there were some great sessions. First was a panel discussion about freelance writing, social media consulting and working with brands. Let me tell you, it felt a bit harsh at times and I felt like they were glaring me in the eyes saying "You are not good enough," but I learned a lot. Next up, Vera Sweeny and Audrey McClelland talked about expanding your blogging and business offline and shared a ton of great information with us all.
Jessica Sanders-Parmer on Staree
After the sessions, the Chic Suite opened up where there were swag bags full of goodies from Rayovac, PixiGlow, Remington and basq Skin Care. They were giving makeovers and massages too, though I did not partake in any of that due to the popularity of the suite. Once I picked up my swag, I headed over to the expo hall where I grabbed a glass of wine from the cash bar and had a nice chat with Evan Weber and a wonderful woman whose name escapes me at the moment. I ended my day at SheCon around 6pm and headed back to the campground to hang out with the family, swim in the pool and eat some steak.
Jessica Sanders-Parmer on Staree
To find out more about my time spent at SheCon, the awesomeness of Subway and Disney Pixar and more about the Swag, come back for the rest of my post this week. I will link each one up here as they are written.
Related articles