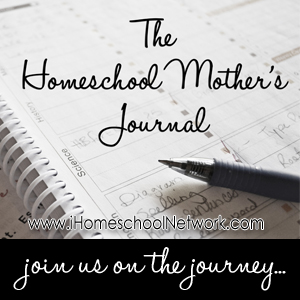 In this week of the Homeschool Mother's Journal, I'm sharing a week of ups and downs. Before I start though, the weekly link-up has moved from The Homeschool Chick over to the iHomeschool Network. Make sure you stop by and link-up your post this week!
In my life this week…
The hard drive in my brand new (bought refurbished 2 weeks ago) Dell Inspiron Duo went kaput! Not cool! It was my 30th birthday present since I have been drooling over it for forever. Now I have to send it back to dell and decide if it my dream laptop is really worth it or if I should choose something else.
On top of that, I had a moment where it felt like the wind was sucked right out of me when a conference sponsorship didn't work out. Through it all though I'm amazingly still smiling at the end of the week and fixing all the problems as they come my way.
In our homeschool this week…
I was reminded to keep following my instincts and continue on the path of almost unschooling. Matt decided to write in his journal last night and came to me when he was done with a hand drawn map of Florida (drafted from memory) ready for me to help him spell out all of the cities that he had properly marked on the map that he remembered.
With Matt's memory issues, this is something that not long ago, I would have never imagined. I know he accomplished this because of his interest and not because I was drilling him on it. I will continue to follow the kids lead because watching them flourish in their own time is amazing.
Helpful homeschooling tips or advice to share…
Books on home education are great, but do not let them sway you from what you know is right from your family in your heart. Look for books that will add to your inspiration, not ones that will make you question yourself.
I am inspired by…
Right now I'm drawing my inspiration from Amy Lupold Bair, Heidi Strawser and my own hubby. Amy, @ResourcefulMom, for her role in social media in the mom blogger world, she is awesome! Heidi, www.heidi-strawser.com, because I've watched her get kicked down in the past six months by the homeschooling world and pick herself back up so gracefully and she has come out looking that much stronger and more influential. My hubby, because his determination while studying for the FedEx Top Wrench Competition for the past month (that he will be attending in Vegas next week) has been amazing!
My favorite thing this week was…
Setting our whole family up in Chore Pad HD on the iPad. I cannot remember the last time my kids were so on task and productive. I'm using not only to track their duties around the house each day, but lessons for the day and behavior too. I've also got the hubs and I set up as well to help us accomplish our goals each day and it is setting a great example for the kids. Chore Pad Rocks!
I'm grateful for…
The amazing 30th birthday night out I had with a good friend who was in town from Georgia. Many margaritas later, I cannot remember the last time I smiled and laughed so much. I'm also super grateful for the awesome dudes that drive the rickshaws around I-Drive so that I can indulge in margaritas and not walk back to the hotel.
A photo, video, link, or quote to share…
"That which prompts to deeds of courage, to acts of loyalty, to thoughts of patriotism, is vital in children's reading." – Mary E. Burt "What is Vital in Children's Reading" in "New York Teachers Monograph" 1898
Related articles