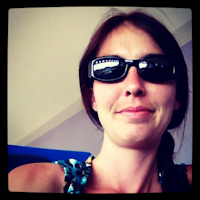 Welcome fellow Blog Stars! I'm not sure I would call myself a Blog Star just yet, but I really enjoy Mrs. Monologues blog and this link up sounded fun, so here we go . . . I'm Jessica, the 30 year old Odd Mom that never seems to fit into the typical mommy molds. After almost ten years of being a mom, a lot of weird looks, rude questions and outright mean statements have been thrown my way because of the way I choose to parent. It has taken me a long time, but I finally realize that I don't have to fit into the mainstream mold, or even the mold of my friends. A lot of love, research and deep conversations went into every parenting choice my husband and I have made and I stand by the choices with a fierce passion no matter how odd that may make me in the eyes of the world.
Speaking of the hubs, he is awesome, has stood by me through some of the worst and I am happy to have spent the last 13 years with him and can only hope there are so many more. The best part of the hubs, he is just as odd as I am on so many levels so we get the pleasure of really freaking people out with the double the quirk. Head on over to the Meet the Family page to learn a little bit more about him and my awesomely odd kids too!
Oh, you should know that I'm a mom of all trades, meaning I like to cook, draw, sing etc...but I'm not particularly great at any of it. It is for this reason that you've come to the wrong blog if you're looking for some Betty or Martha inspiration, because I'm surely not handing it out.
I hope you enjoy your trip into my odd little mind and visit often!
Why Do I Blog?
That Odd Mom started out as a way for me to share some of my favorite budget friendly homeschooling resources two years ago. It was a fun journey, but let's face it; it is difficult to have a niche blog in the world of homeschooling when you're a young non-religious mom. I decided it was time to embrace my oddness online in the same way I do offline so That Odd Mom was born.
Now when you visit my crazy little place on the web you will still find post about homeschooling, my love of entertainment and Disney and so much more. While it may be seem pretty random at times, it is only as random as my own quirky mind. If you think you can handle my version of odd, I invite you stick around, dive in to my cheapish therapy and hopefully find a little inspiration to discover your odd and stand out as the mom that you know you were meant to be.