Our family had an interesting night last night that included kids jacked up with sugar highs, my three year old telling me about her date and a heartwarming conversation that stemmed from the lotto. It all began because we decided to take a family night out to dinner before grocery shopping and it will be night full of memories that I hope to remember.
Our evening started out with a dinner at Golden Corral last night. The older two kids begged to go as they are completely enamored by the chocolate waterfall. I could not say no because it is always nice when a family of five can out to dinner and spend $50 or less. To our surprise, when we arrived the chocolate waterfall was no longer only sweet treat being offered up. For the whole summer, Golden Corral is passing out fresh spun cotton candy as part of their buffet.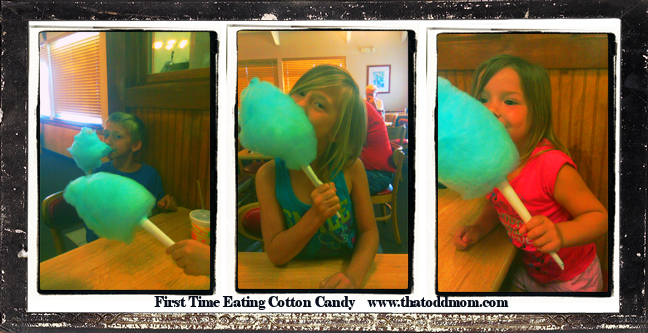 Our kids eyes lit up and they beamed with smiles that attracted the attention of diners all around us when we agreed to let them have some. You see, this was the first time any of our kids had ever tried the sugar concoction as we avoid most sugary treats due to Matt being on the autism spectrum. Matt, 9, devoured his immediately while it too Ema, 7, a little longer to finish hers off. Our three old Ali, on the other hand, had more fun playing with hers while laughing about the texture. She did eventually nibble on a little bit of it after compressing it down, but overall it appealed to her more as a toy than a treat.
~ ~ ~ ~ ~
We headed off to the grocery store after dinner and once all the shopping was done Ema sparked up a conversation out of nowhere wanting to know if the hubs or I had ever lived alone before. This is when Ali, our three old piped up with her interesting tale in response to that question.
Ali: I have!
Me: Oh yeah, when did you live by yourself?
Ali: When I had my date with Tommy.
Me: Oh really! Where did you go on your date with Tommy?
Ali: To the bar. The princess bar.
Me: Uh Huh, Okay.
I couldn't help but giggle because for one, we do not know anyone named Tommy, so I'm not entirely sure of where she pulled that name from. Secondly, because she isn't very good about detaching when the hubs and me have date nights. So I explained to her once that we were going to a bar to have drinks and that a bar was a grown up place that she couldn't go to. I further explained that it was our date night to have mommy and daddy time and we would be home soon. Someone remind me to tell her when she's a bit older that dates do not consist solely of having drinks at a bar, okay!
~ ~ ~ ~ ~
The night wasn't over yet. After shopping, we stopped at the local gas station before heading home to pick up tickets for the Powerball. The big kids began to ask what we would buy if we won. We barely got a word in when they began to tell us what they would do with the money.
Matt would like a baby goat to raise and an old cobra mustang that he can restore.
Ema would like it if we could buy a two-story house (she thinks stairs would be fun) and a horse.
Ali wants a princess rabbit and a white horse.
Have you figured out yet why this conversation was so heartwarming to me. Not once, did any of the kids name a slew of toys or other ridiculousness. Their requests were heartfelt and rather simple in the grand scheme of the potential lottery winnings. There are so many days that I feel like I'm screwing up as a parent, but this was not one of them.
The conversation tapered off and we finally made it home to put the groceries away at 9pm. Can you guess whose kids where STILL awake at 10:30 last night crashing from their sugar highs and complaining of headaches? Yeah, they enjoyed their first trip into the dark side known as cotton candy, but I'm not sure they plan to revisit any time soon.
Unfortunately, I'm not writing this post a new multimillionaire, but I am writing it as one happy mama that has enjoyed an incredibly relaxing weekend with my family.