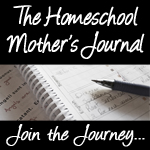 Woo hoo, I remember to get my Homeschool Mothers Journal post up this week. It has been a rough week here, but a surprisingly peaceful one at the same time. If you want to share your home school week head on over to iHomeschoolNetwork and link up your post too!
In my life this week…
I have been in knee pain agony! You can read the post about my pain from earlier this week here, but to make a long story short about the week, I'm hurting, the house is turning into a war zone, steroids suck and it is forcing my extended breast feeder to wean.
In our homeschool this week…
No formal "schooling" going on around here at the moment, but the kids have created plenty of moments on their own. Just two off the top of my head are discussing who was president in 1984 because a documentary sparked the question and the big kids sewed their first pillows. Ask me again when I'm not in a tired haze and ; )
Places we're going and people we're seeing…
Hopefully to get our Mad Wig Out on this weekend and watch Madagascar 3. Shhh…don't tell the kids though because we haven't 100% decided if we want to attempt it on opening weekend yet or not.
Things I'm working on…
Getting more organized, I'm horrible at it! So far, I have my blog/social media life under control and well planned out, next will be smoothing out our home school. I'm learning that as much as I LOVE online/digital planners, paper planners seem to keep me on task so much better.
I'm reading…
Absolutely nothing! However, I should be soon as I have it as a new daily reminder to keep me sane and get out of the super mom mentality to try to carve out time to read at least 15m a day.
I'm cooking…
I tried making some quinoa tabbouleh for the first time the other night. It turned out horrible! I didn't even use the full amount of lemon juice the recipe called for and it was WAY too bitter. The sad part is that it looked really good. I will try again sometime with a different recipe.
I'm grateful for…
My wonderful hubs that has been so supportive and understanding as the house falls to pieces this week while I hobble around. He has helped with dishes and dinner and without him, I'm afraid things would have gone from chaos to Armageddon.
A photo, video, link, or quote to share…