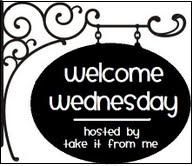 While I was not compensated monetarily for writing this post, I am receiving coupons for Yoplait Kids Yogurt for writing this post on behalf of Yoplait and MyBlogSpark. All opinions expressed in this post are still my own and honest. The Yoplait Kids Snack Chat series is provided by Yoplait on behalf of MyBlogSpark.
Welcome Wednesday! If you're stopping by from the hop, I am happy to have you.
In March, I shared with you my review of Yoplait Kids Yogurt. Now I would like to share with you the Yoplait Kids Snack Chat series. In the 8 part video series, Christine and her pre-schooler J.D. practice good snacking habits, as she discusses topics like overcoming pickiness and setting a good example at snack time.
Before I share with Christine's great tips with you, I want to share one of my own tips for snack time. My kids eat a LOT, so I have to make sure I carefully regulate what they are snacking on and how much of particular snacks they can get so I set up a snack time system.
There is a large plastic zipper bag for each child in the pantry and inside of that bag are smaller bags, each labeled for a day of the week. The kids know that they can only grab a snack from their bag, marked for that particular day.
In their daily bags they will find two snacks, I will usually include something sweet such as some of those new yummy, yet so much better for you, Newton cookies, and then options such as Cascadian farms Fruity O's cereal, pretzels etc. In addition to the pantry bag, each child has a large bag in the fridge drawer too. In these bags, they find an ample supply of fresh fruit, veggies and of course Yoplait Kids Yogurt.
I do not limit the amount of fridge snacks they can have in a day and often find that they will head for the fruit and yogurt before going to the pantry.
Now, on to Christine's fabulous tips. This is the first video in the Yoplait Snack Chat series, to view the remaining videos just scroll down and follow the links after viewing and don't forget to click the link to get your own coupon for .50 off Yoplait Kids Yogurt.