With Johnsonville Fully Cooked and Smoked Sausage Products
By: Kayt Molina
This is a sponsored conversation written by me on behalf of Johnsonville. The opinions and text are all mine.
Fall is almost upon us and even though we live in Florida and "Fall" has a different meaning than most other places, we do enjoy our slight change in weather. My husband has been asking to go camping. Here is the simple math equation I respond with: I'm pregnant + the heat of the summer + mosquitoes = NO. So thank you, Fall because my husband may actually get his wish soon.
I went camping a lot as a child but I was never responsible for planning, prepping, and cooking the meals. It sort of "magically" appeared in all of its fun camp food wonder. There is something uniquely special about roasting marshmallows around a campfire and I can't wait to share that experience with my 4 year old daughter. But what about all the other meals?
I started planning and decided to make our dinners using Johnsonville's smoked cooked products. I don't have to worry about raw chicken or under-cooked meat because Johnsonville's sausages are already cooked and ready to eat. You can simply heat them up over the campfire or you can take it to the next level.
Pizza Kabobs
This is a recipe I prepared recently for a picnic just to test it out and yes, it is delicious. It is definitely going to be one of our camping trip meals:
Ingredients: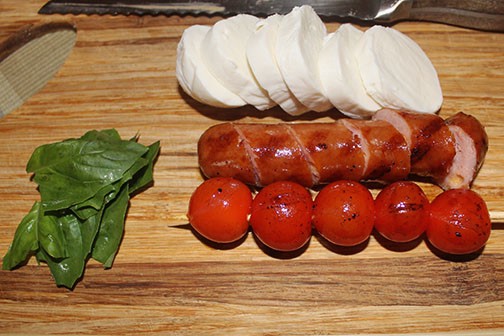 Johnsonville's Sausage (I used New Orleans Style but you can use any flavor you prefer. There is even a pizza flavored Johnsonville sausage!)

Fresh mozzarella (sliced thick)

Basil (torn into large pieces)

Cherry or grape tomatoes

Skewers

Salt & Pepper (to taste)
Directions: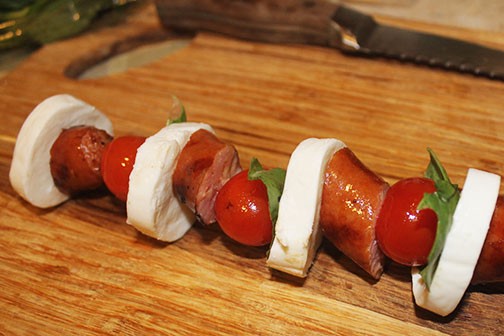 1. Grill your sausages until they are warm and have those nice, grilled beauty marks
2. Put cherry or grape tomatoes on a skewer and grill briefly, just enough to give them some extra flavor. About 2 min. each side. Remove from heat.
3. Slice your sausages and assemble your kabobs with slices of sausage, mozzarella, cherry tomato, and basil until they are all stacked up with deliciousness
You can serve this with Parmesan garlic bread from the grill or a nice salad.
What's your favorite way to add flavor to a camping meal?